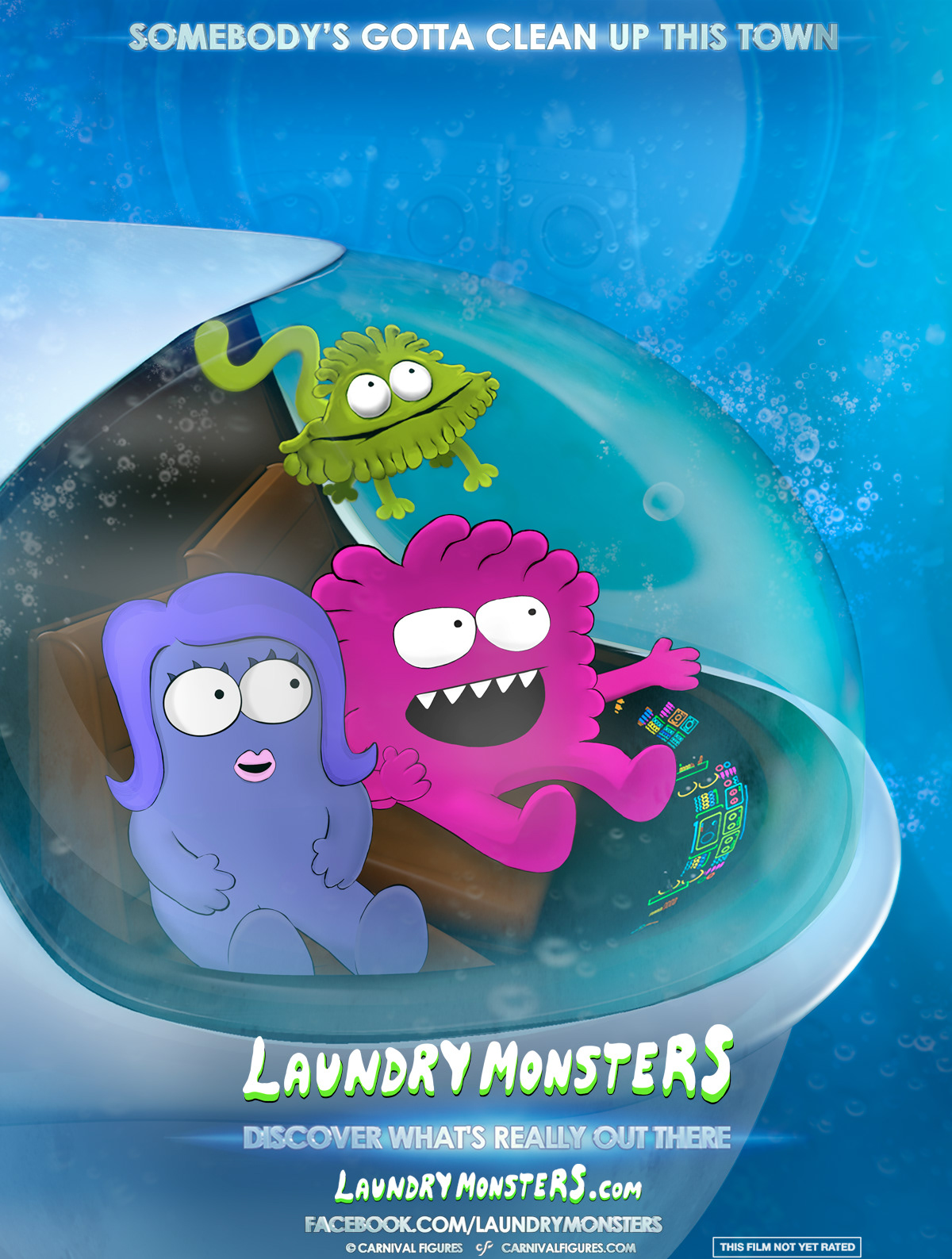 Discover what's really out there!
For more info and updates...
Laundry Monsters is a sci fi animation series that follows the adventures of Brook, Ursula, Crystal, and Jefferson (the Super Squad), a group of Space Academy rejects who are sent on trash duty scanning spaceship parts at the far edges of a Black Hole, and become unlikely heroes when Doc Mercana comes aboard and takes them on an adventure which ends up with them arriving on Earth via a Washing Machine portal!
Stranded on Earth, their now adopted home, they travel around the planet through washing machines, defending the Earth from an enemy race of evil aliens, the Zorgons, who have followed The Super Squad to Earth, and are intent of devouring the planet's natural resources and see the Earth as another planet to conquer. 
When the evil Zorgons steal scientist Doc Mercana's 'Top Secret Transport technology' and journey to the nearest Black Hole to activate the device, Doc joins a misfit crew of Space Academy rejects scanning spaceship parts at the far edges of a Black Hole, who must learn to work together to recover the technology and save the Universe!
An animated sci-fi adventure between battling aliens that have come to Earth and who travel through washing machines, in which the mysteries of lost socks and unusual spin cycles are explained.
Genre - Sci fi action adventure
2D Character Design, Animatic Development and After Effects Animator, 2D and 3D Compositor, Sound Design
3D Animation and Modelling
Additional 3D Zorgon Spaceship Modelling and Animation
Doc

Mercana

- David Masterson
Sandra Vass - Lucie Regan

Newscaster - Meena Rayann
Computer Voice - Meena Rayann
Groundsman- Sean Connolly
Tanker
Charles Langley - Sean Connolly
Borosa (Zorgon Commander) - Sean Connolly
Watch key animatic drafts including 3D spaceship and special effects sequences for the Laundry Monsters 'Origins Sequence.'
(Watch the clips in the intended order)
Laundry Monsters - 'Origins' - 'A
top secret
technology has been taken'
The Zorgons invade a Space Academy Compound and Take Doc
Mercana's top secret technology. Doc commandeers a shuttle pod and heads towards the Sambacoa Nebula, realising that must be where the Zorgons are heading to activate the pods using the energy from a Black Hole! 
Doc contacts Sandra Vass at Space Academy in an attempt to find a ship to rendevouz
with, and we discover our heroes at this remote location.
This Laundry Monsters clip shows the beginning of the trailer
opening,
and serves as the lead up to watching the subsequent animatic clips.
Doc  
Mercana
- David Masterson
Sandra Vass - Lucie Regan
Newscaster - Meena Rayann
Computer Voice - Meena Rayann
Command Crew Member - Will Nash
Screenplay, Design, Storyboard, animation, layout and environments, Direction, Editing and Sound Design by Alex Dawson
3D modelling and animation by Federico Cordella
All copyright @ Alex Dawson Carnival Figures
The Super Squad attempt to flee the Zorgon ship, escaping with a single bubble transport pod. However, the Zorgons have now awoken from their hibernation cycle and fire missiles apon them. Doc is forced to use the 'Bubble Transport Technology' Pod to escape certain death, as the evil Zorgon Gloch looks on, determined to destroy his enemies.